#1 in Mobile App Analytics
UXCam captures every interaction inside your mobile app:
Track your mobile app KPIs

Discover & fix usability issues

Increase feature adoption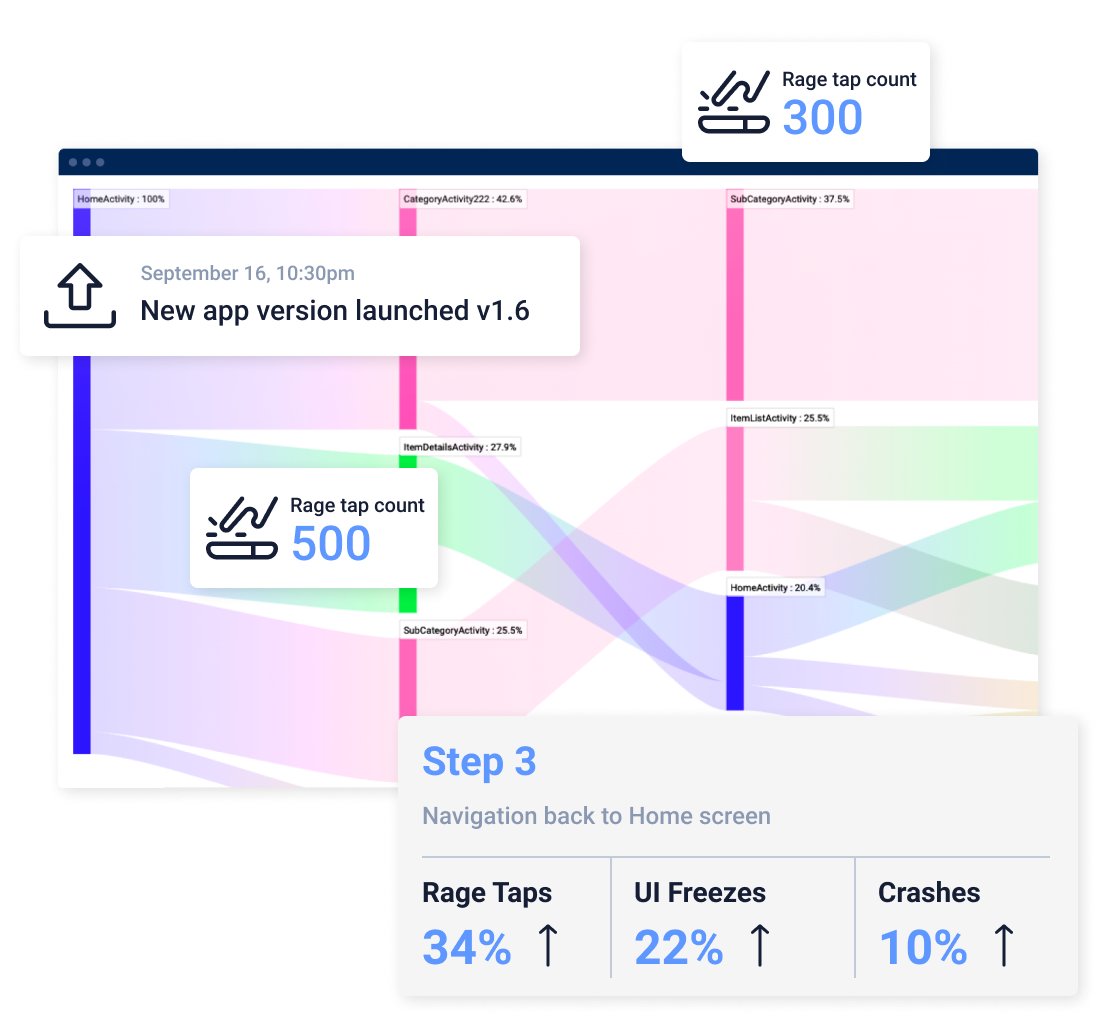 21,000+ Raving Fans Trust UXCam's Mobile Analytics
We receive an overwhelmingly large number of positive user reviews. Get a full-scale mobile app analytics solution for all app platforms and frameworks.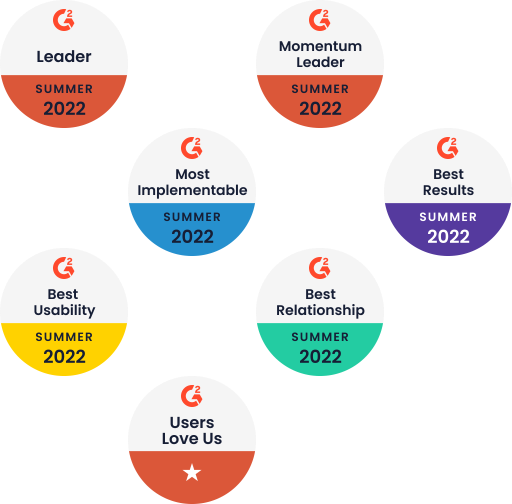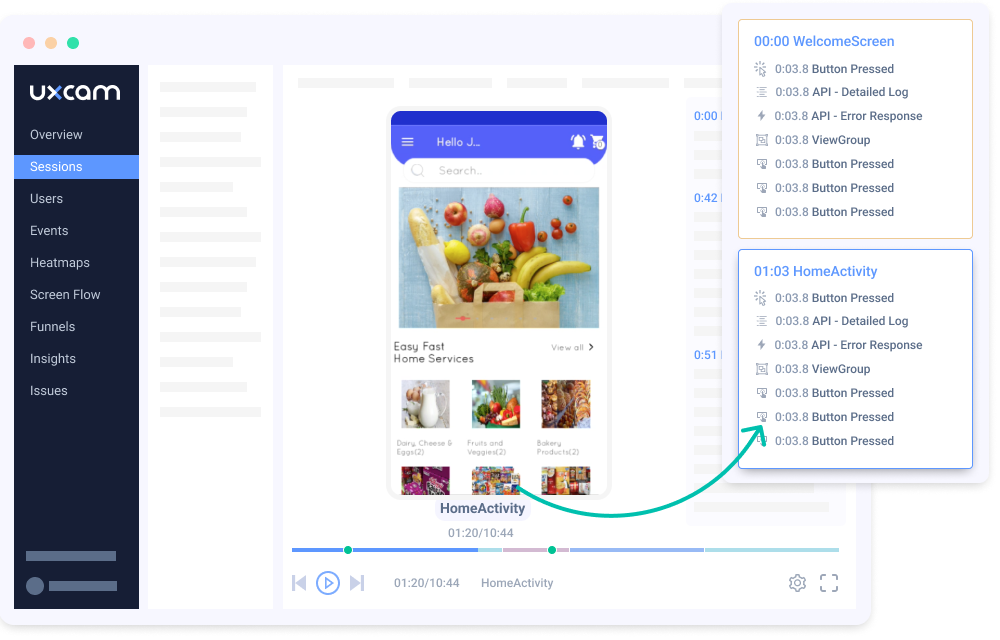 Session recording & replay
We record your users' sessions from start to finish so you can replay their journey and identify pain points. Segment your sessions based on user gestures, rage taps, UI freezes, and many other attributes. Set up in just 30 minutes, without any customized tagging.
App conversion funnels
Use funnels to break down your app user journey into key milestones. Track funnel performance in real-time and easily zoom in on funnel audiences to analyze them further via heatmaps and session recordings.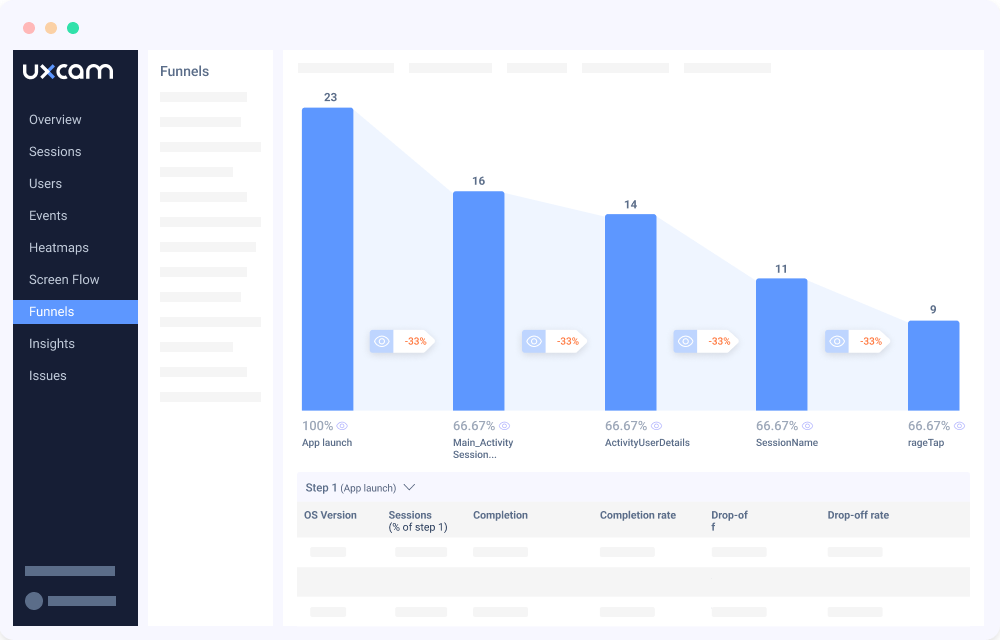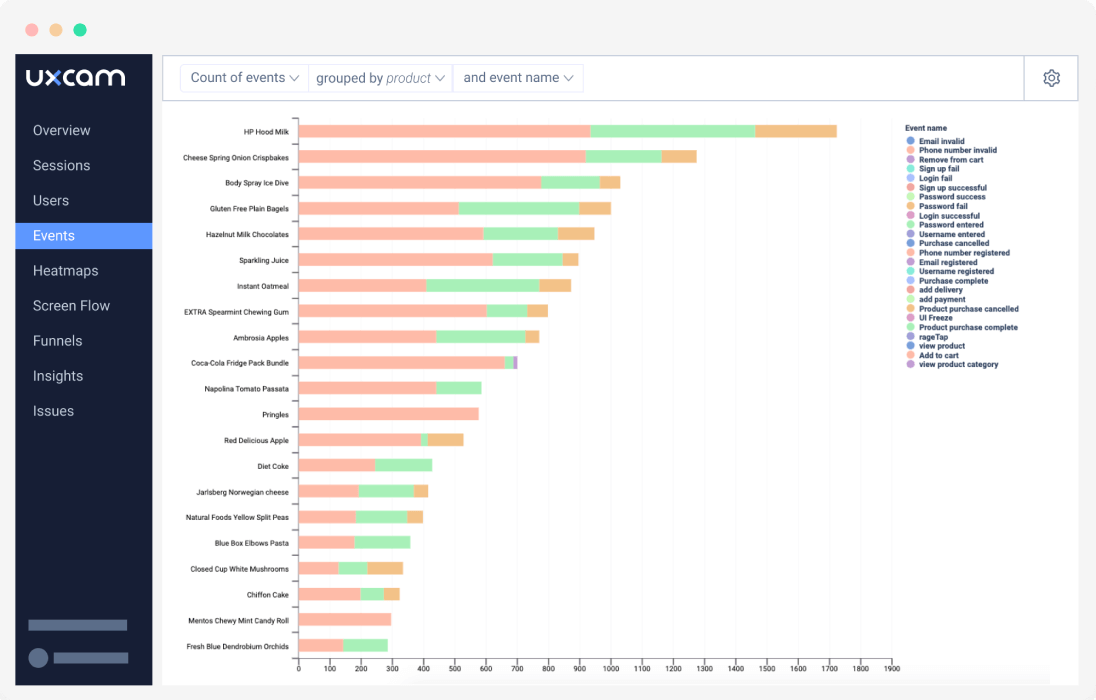 Custom event dashboards
Send events — user actions, errors, or triggers — and gain deeper insights into your users' behavior. Customize, group and filter your events to measure the adoption of new features, create advanced funnels, and know how your users interact with each screen of your app.
Issue & crash analytics
Take crash analytics to the next level. We use machine learning to automatically highlight problematic sessions. Know when and where your users struggle with crashes, rage taps, UI freezes, and other hidden UX issues.
Deliver the perfect app experience.
International Security Compliance

CUSTOMER STORIES

We now use UXCam to validate our product ideas and test out hypotheses with raw, actionable user insights.
Housing.com
Gaurav Jain Lead Product Manager
Read the case study
CUSTOMER STORIES
If something goes wrong within the app, UXCam is the first port of call to understand what's going on. Playing a key role across multiple teams, UXCam is now an integral part of the launch and live ops strategy.
Costa Coffee
Daniel Tomlinson Daniel Tomlinson
Read the case study
CUSTOMER STORIES

We wanted to make data-driven decisions on what content to push out next and evaluate how our instructors are doing. With UXCam, we get a holistic picture of the top performing content within the app and the instructors that drive the highest user engagement.
Inspire Fitness
Neil Jain Product Manager
Read the case study